This morning had purpose for me. I was downright
ordered
by my very own Grandmother to take some of her money and go buy at least three more pairs of pants for work. After a small conversation trying to explain that I do not need more then one pair, I gave in, took the $300 she sent me and did just as she said, I went to target and got exactly three pairs of pants. Well that was only $80. So what now to do with the rest of the money?
After a small stroll in target and finding one delightful pair of sandals, I headed to Ross. You know what I love about their store? You can and will find both cheep and higher quality items for the same low costs. I bought a top today for $5.99. All together I got 4 tops and 1 adorable bolero for $40. Tomorrow I'll get some photos to add to this of the clothing I purchased. I'm honestly proud of myself.
Before my stomach started screaming at me, I made my last stop over at JC Penny. If someone had told me that there would be a full Sephora store inside that damn retailer I would have found somewhere else to go. Why, you may ask? Well let me just say this. I
LOVE
L-O-V-E Sephora. Seeing this store was like seeing the proverbial gates to heaven. Not to mention that located just at those gates and inside were two extremely well dressed and well spoken homosexual men. It was like I'd died and gone to... Sephora.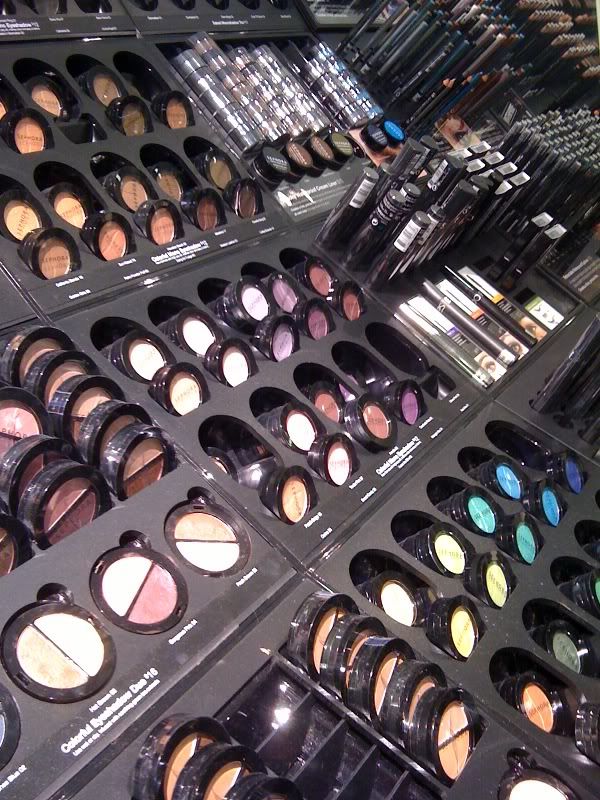 After seeing all of this I felt somewhat obligated to make a purchase or 4. So without much thought to it I bought a brush for lips, a brush for liquid liners, a small jar of smokey cream line, and a glitter black crayon eye liner pencil. I was just feeling so accomplished. Then as I was exiting, I saw a lovely end-cap of this.
Kat Von D. and Sephora have come out with a rather nice selection of pallets and colors. That green pallet right there in the middle is one I am going to be purchasing in the near future.
After this productive shopping spree, I headed home where I spent my day watching Ponyo and anything that appealed really. Just as I was about to sit down and be done for the night, my Aunt came in and placed 5 small bottles and jars of Clinique and Lancome pieces in front of me. Turns out that my grandmother gets a basket from them once a month and these things she does not use. Well guess what Grandma! I use Clinique and you have just saved me about $80.
This day ends well for me and tomorrow starts my new job. Same company, different and much more trafficy location. So I think it's about time I hit the hay. Good night all! Wish me luck!